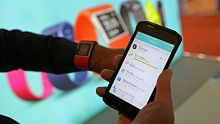 No one ever loses weight during the Christmas holidays. In fact, chances are that you'll have put on a few pounds. So, how about shedding that extra weight while you work?
Office workers worried about the long-term effects of extended sitting are elevating their desks in an attempt to burn a few more calories and keep their metabolisms active.
Studies on the health implications of extended sitting have yielded conflicting results, but one thing's for sure: a little exercise is always a good thing. That's why some companies have pushed the envelope and introduced treadmill desks. These units get you strolling slowly as you answer emails and take phone calls.
You can buy fully integrated standup and treadmill units, or modify what you already have. Varidesk (ca.varidesk.com/) offers adjustable platforms that sit atop your existing desk and elevate your laptop, starting at $240. It also offers a full replacement standing desk that fits two monitors and is hand-adjustable to sitting and standing positions for a shade under $800.
For more exercise, LifeSpan Fitness (www.lifespanfitness.com/canada/) will sell you a treadmill to fit underneath your existing standing desk for around $1,100, or a fully loaded treadmill integrated into an electrically controlled adjustable desk — the Cadillac of treadmill desks — for $4,000.
If you think you'll find it difficult to type while strolling along in front of your desk, consider a wireless headset, such as Logitech International SA's $95 H800 (www.logitech.com) along with Nuance Communications' Dragon dictation software (www.nuance.com/dragon), which will enable you to dictate directly into your computer without typing. Just try not to huff and puff too much.
This is part four of a four-part series on helpful gadgets for financial advisors.
Follow Investment Executive on LinkedIn.