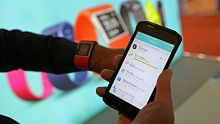 Financial advisors often spend an inordinate amount of time in the car, travelling to various meetings. So, why not make it more enjoyable by asking Santa for a head-up display (HUD) device?
These devices are built into higher-end, newer-model cars, but the rest of us can still benefit from them by using add-on accessories. HUD devices project vital information for the driver directly onto the windshield, or onto a small glass panel mounted directly in front of it. The primary idea is safety — with a visual cool factor thrown in.
HUD displays use a dedicated smartphone app that draws on the GPS to determine your speed and location. Garmin Ltd.'s discontinued HUD+ (bit.ly/1Qpgfmh) sells for around $280 through online retailers such as Amazon.ca.
There are others coming, though, that offer even more features. Navdy Inc.'s namesake device wirelessly connects to your smartphone and displays incoming phone calls and watches your hand gestures, enabling to answer these calls by waving your finger. (Editor's note, March 2018: Navdy is no longer conducting business.)
You can also call your contacts and play the music of your choice using voice commands. Here's the bad news: the Navdy is on backorder until March and SenseDriver's similar device, SenseHUD, won't be available until the summer.
Hudway Glass (www.hudwayglass.com) is a similar device that won't ship until May. However, if an IOU under the tree just won't do, you could always ask your loved ones to download the current version of the app, which uses the reflection from your phone to beam route and speed information directly onto your windshield (www.hudwayapp.com). Then, they could install it on that shiny iPhone 6S Plus smartphone they just bought you and leave that under the tree instead.
This is part two of a four-part series on helpful gadgets for financial advisors.
Tomorrow: A hybrid device could replace your laptop and tablet in one handy package